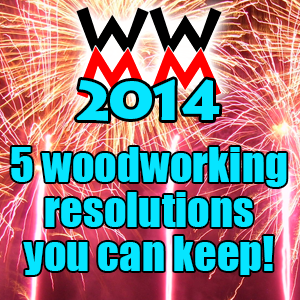 Happy New Year!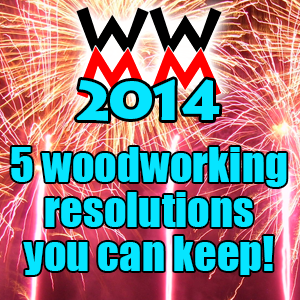 As we enter 2014, here are a few tips for you to consider implementing in your workshop. None of these will cost you a cent and may help you to focus on woodworking rather than its trappings.
1. AVOID BUYING TOOLS
Don't buy a tool because you want it, but only if you absolutely need it. Even then, try find creative solutions using tools you already own first.
2. LEND YOUR TOOLS TO PEOPLE WHO ASK
Be a Good Guy Woodworker. Ditch the arrogant,
"don't even look at them"
mentality. Friendships and goodwill are more valuable than objects.
3. SCRAP THE SCRAPS
Spend one hour – just one day this year – throwing away scrap lumber. Especially those tiny cut-offs. Be honest with yourself: if there are scraps you haven't touched in a year, you probably won't use them.
4. CREATE, DON'T COLLECT
If you have tools that serve only to gather dust, sell them or give them away. Avoid emotional attachments to tools which can lead to hoarding and stifle productivity. Decluttering your shop will declutter your mind.
If you've only built projects from plans, try to create something on your own. It doesn't have to be fancy or complicated, maybe a new style of bookcase or storage container. You will learn and discover techniques and build your skills faster.